Xiaomi Mi Power Bank 10000mAh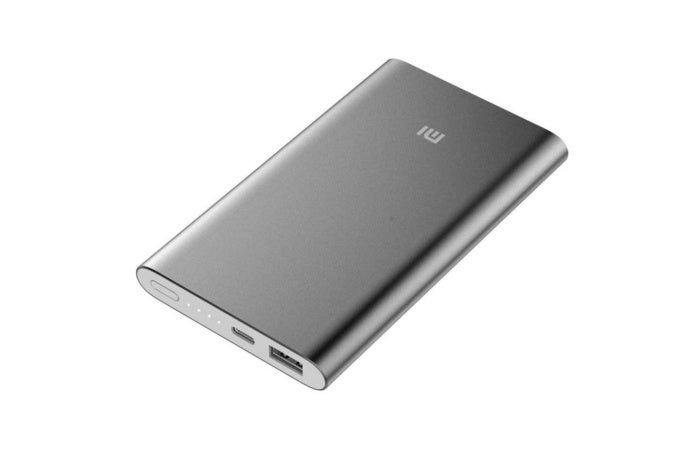 The latest arrival on American shores is the Mi Power Bank 10000mah. This 10,000 milliamp-hour battery pack is sleek and well-designed. Its sturdy housing feels like it can withstand a drop or six.link
There are two ports on the front of the pack: one USB-A port for charging your phone or tablet, and a USB-C port for charging the pack itself. Next to the ports is a power button that's easy to press, along with four white led buttons. Each one represents about 25 percent of the battery's capacity.
In our testing, the 10,000mAh (38.5Wh) battery pack had an impressive 90.99-percent efficiency. That's good enough for the Mi Power Bank Pro to place third among the packs we've previously tested, and well above the group's average efficiency of 83.53 percent.
The USB-C port can accept power from up to an 18W power source, putting recharge time at under 4 hours. However, for our testing, we used a standard 5V/2A power adapter—the total time to top up the pack was just under 5 hours.
Fast charging support varies. Unfortunately, I wasn't able to get a Pixel 2 XL to register the Mi Power Bank Pro as providing enough juice for a fast charge. But a subsequent test with the Samsung Galaxy S8 did register as a fast charging power bank.
Included in the box is the battery pack and a USB-A to microUSB cable, with a microUSB to USB-C adapter attached to the cable. The ease of changing between the connectors is appreciated, as is knowing that the adapter won't easily get misplaced.
Bottom Line: At this price point and with this performance, you simply can't go wrong with the Mi Power Bank Pro. Not only is it small enough to tote around anywhere, it's capable of charging all the things.readmore…